Based on our experience, link building is the most effective tactic to boost an e-commerce website's organic traffic.
If we analyze what single SEO technique is behind most of the successes that we've had, then link building has been the key driver behind most results.
For the best possible results, we still recommend you implement other tactics as well, but if you asked me for the #1 driver behind most results, then this is it.
Having said that, if you don't know what you're doing, you might end up spending tens of thousands on links and getting nowhere.
With links, you need to know what you're doing and follow a specific plan to have the best odds of success and get the most bang for your buck.
In this article, we'll give you a very specific, step-by-step game plan on how to build links to gain maximum effect for your e-com store.
Why should you trust our advice?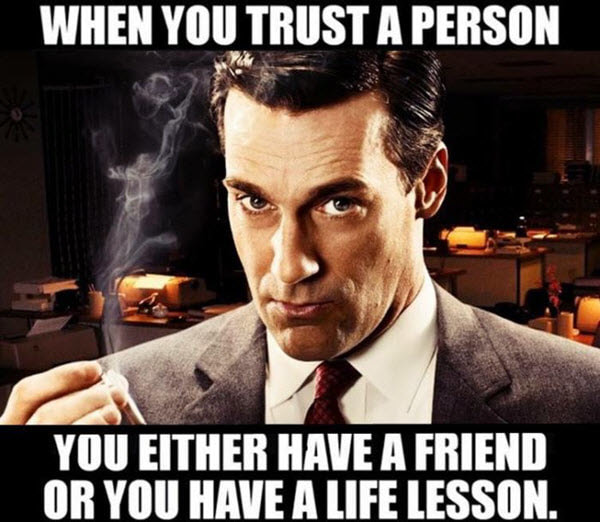 Link building is the area of SEO in which we feel the strongest. It's also one of the most complicated parts of SEO, as it involves combining technical skills with sales skills. So, instead of building links, most SEO-s mainly focus on doing everything else.
Our process comes from experience, which comes from the necessity to learn it for ourselves. As our background is in affiliate SEO, meaning we only made money when we made sales for other businesses, we had to find out which SEO tactics pack the biggest punch.
After trying many different things, link building came out on top on almost every occasion.
Now, after doing SEO for a good number of clients, we've tried all kinds of different techniques and tactics.
Some clients only want us to help them with content, technical analysis, adding internal links, fixing their site structure or some other SEO tactic they've read or heard about.
We continuously analyze all the campaigns that we work on to see what works and what doesn't. And to this day, the most consistent tactic in helping our clients rank is building quality links to the pages that they want to rank with.
Because of this, we keep focusing heavily on constantly improving our link-building tactics and process.
Also, check our case studies page to see the results of some of the campaigns we've worked on. Most of the results have been achieved through building backlinks to the most important product and category pages.
Why should you invest your money into links?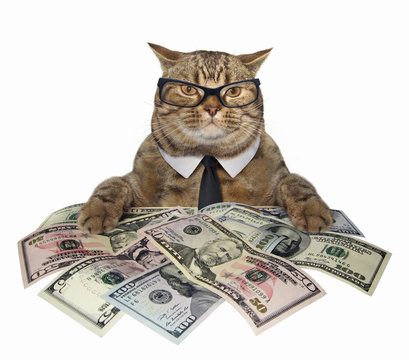 I think you've got the point by now. The main reason is that link building is the single most effective SEO tactic that you can utilize.
If your website has major technical issues or you don't have any relevant content up on your site, you should focus on getting those things fixed.
But if you are running a somewhat decent website (which is the case with 98% of our clients), link building will have the highest return on investment.
PS! Did you know that Google's success is mainly based on the fact that it was the first search engine to use backlinks as a ranking factor. This allowed them to deliver the best and most relevant results and made them the success that they are today.
The entire algorithm consists of 200+ ranking factors, but links still remain one of the most important factors that you can control.
How to know which pages you should build links to?
Ok, so let's say that you're on board that building links is important, but where do you direct those links to?
At our sister company – batlinks.io (only focused on selling link-building services), we see too many clients coming to us to buy links, and when we ask them, "Where do we build the links to?" – they are clueless.
One simple answer is that if you don't know what you're doing, it always helps to build links to your homepage. This will raise your overall website authority and all your sub-pages will benefit from those links as well.
However, if you want the links to be much, much more effective, here are our recommended best practices:
1. Use your own knowledge of your products and categories
Which products or categories are the most profitable for you?
By answering this simple question, you'll have a good starting point.
Let's say that you're selling home gym equipment. One of the products you're selling is a $1,500 home gym set where you're making $300 in profit per sale, while another one of your products is a $10 jumping rope that makes you $3 in profit.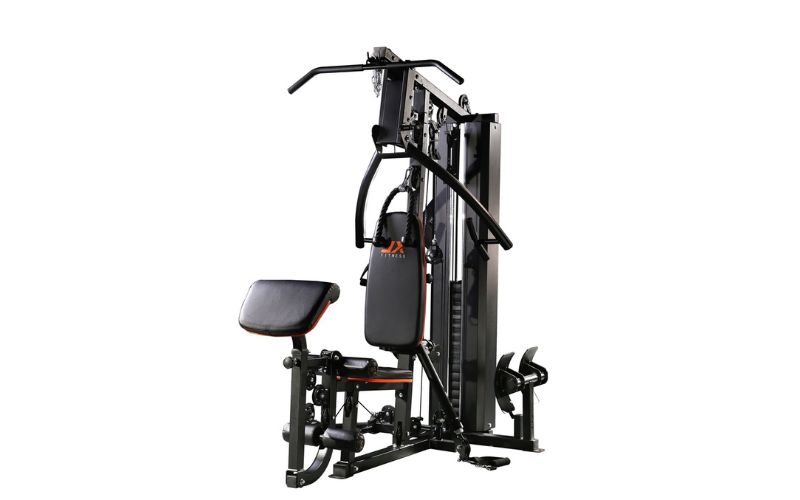 In this scenario, it's quite obvious. If an average backlink costs $300, you would need to sell 100 ropes to make up for the one backlink, but you'd only need to sell one gym set.
And, I wouldn't expect that you need 100x more links to rank for the home gym set keyword, compared to the jumping rope keyword. You might need more, but the difference is minimal in most cases.
2. Analyse which pages would benefit the most from link building
A more advanced tactic is to look for which pages on your site are the closest to ranking in the top 3.
The top 3 positions get the most clicks, while if you're ranking on the second page or below, you are very unlikely to get any clicks at all.
However, if you have already reached the top 30 for any search terms with significant volume, that's a very good sign. This shows that Google likes and trusts your site enough to rank you for the given term.
Now all you need is some additional link power to get to the top.
Our main method – using Ahrefs
We use a tool called Ahrefs that shows us different keyword rankings of a webpage.
The tool allows us to run an analysis that we call a "low-hanging fruit analysis".
In the analysis, we simply apply some filters to look for keywords that are ranking in positions #4 to #30 and we sort them based on how many searches there are for those keywords.
Here's an example of running this analysis for Bowflex a major home gym equipment brand in the US.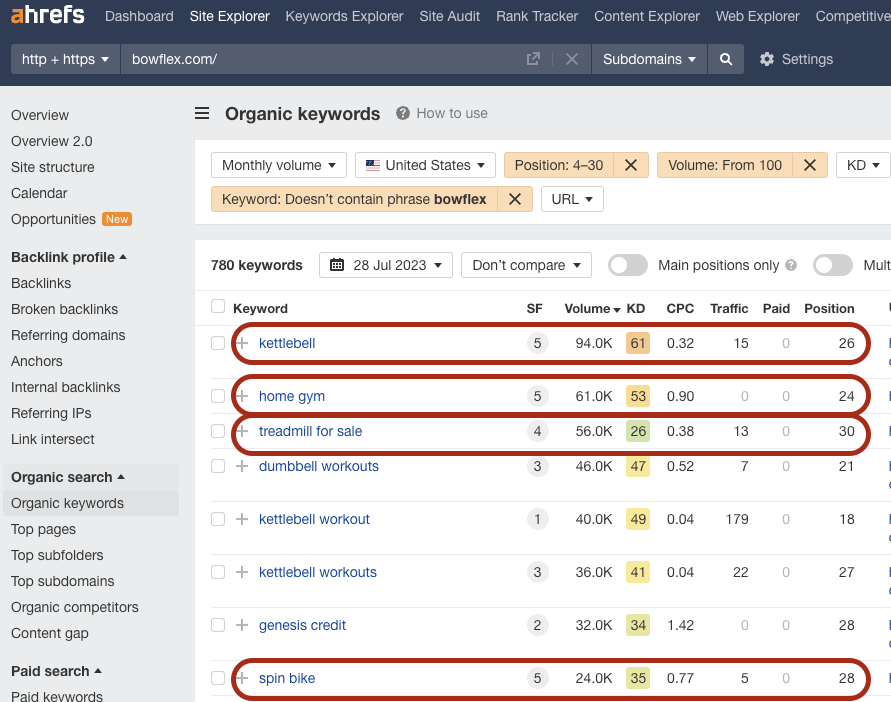 Don't be intimidated by all the data, you don't need to understand all of this for now, but what you should pay attention to are the keywords highlighted in red.
Bowflex is ranking for the keyword "kettlebell" in position #26. The keyword has 94,000 monthly searches in the USA alone.
They are ranking in position #24 for the keyword "home gym". The keyword has 61,000 monthly searches in the USA alone.
They are ranking in position #28 for the keyword "spin bike", and the keyword has 24,000 monthly searches in the USA.
Based on the above, we would advise them to pick one of the products (or more, given their budget) and start building links to that particular product or category page.
If the client wants, we can go even more granular and analyze the potential ROI from building links to this page.
Let's run a sample analysis for this case:
How to know how valuable a keyword can be for your business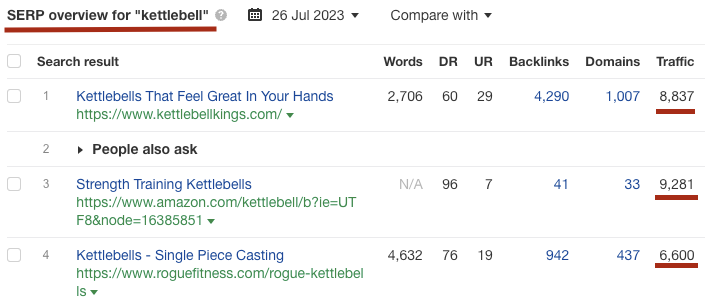 The top 3 results get an average of 8,000 searches per month, in the USA. According to ahrefs, the US represents only 20% of the global search volume for this keyword.
This means that the total traffic is potentially 5x bigger, but as Bowflex doesn't ship to all countries, we could conservatively estimate that the potential traffic is 2 times higher so 16,000 searches per month.
Now, according to Shopify research, the average e-commerce store conversion rate is 2%-3%. If we are more conservative and estimate an average conversion rate of 1.5%, Bowflex stands to make 16,000 x 1.5% = 240 sales per month if they were to rank in the top 3 for this keyword.
The real benefit is actually higher because as they get a client, they also get their email and many clients buy more in the future, but let's disregard this in our calculations.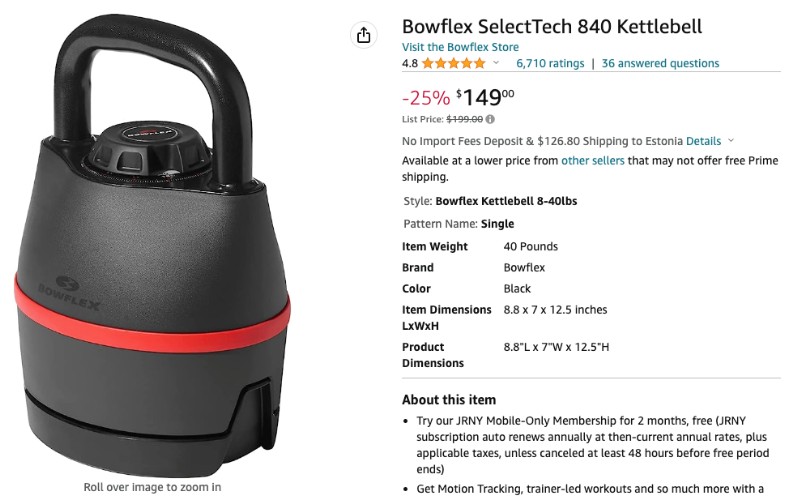 Bowflex kettlebell costs $149, so that would mean 240 x $149 = $35,760 in extra sales per month from just this one product. Also, if they were to make into the top 3, based on our experience, these kinds of rankings stick for 6-18 months, on average, if you don't maintain them. By maintaining, I mean continue to build links.
So, if we take that the rankings will last for 6 months, the total financial impact is 6 x $35,760 = $214,560. This is just revenue and not profit.
If we estimate the average gross profit of this type of physical product to be 30%, that would mean this page would earn an additional $64,000 in gross profit.
Now, this is just one part of the equation, the potential income part. In the next section, I'll show how we calculate the cost to achieve those rankings.
But all in all, this is the process that we go through to put a list of potential keywords with potential ROI together for our clients.
PS! If this feels like an overkill, don't be discouraged. This process doesn't actually take us too long and we only do it if the client asks for it. If you are not interested in hiring a professional SEO agency and/or, you are not in a niche that is as competitive, there is no need to go through this process.
How many links do you need to build?
This process again, requires the use of a tool like ahrefs.
What we do is we check through the backlinks of each of the competitors that currently rank at the top and we calculate how many good quality backlinks it takes to rank in the top 3.
Example analysis from Rogue fitness, who is ranking in position #3 for the keyword "Kettlebell"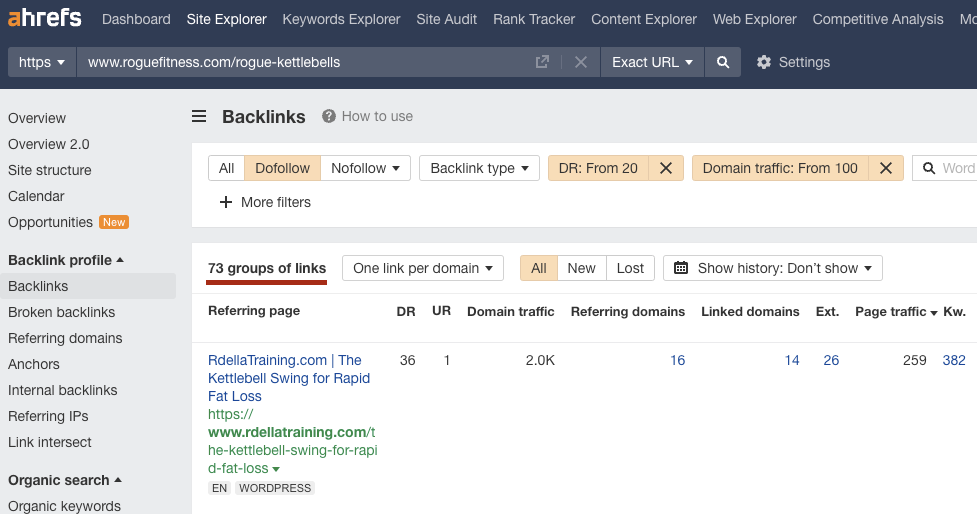 They have 73 backlinks from unique domains that have a domain rating of at least 20 and that get at least 100 searches per month.
We also browse through the list of backlinks to only count the quality ones as there might be some scraper websites and other low-quality sites there that have no effect in ranking the site.
After checking, I found them to have 42 decent-quality backlinks. I mark this number down, do the same for the other results in the top 3 and take the average, which in this case was 55 backlinks.
Also, if our overall domain rating is way below our competitors', I do add more links to the calculation to make up for it.
So in this case, the result was 55. If we estimate an average quality backlink to cost $300, Bowflex would need to invest 55 x $300 = $17,500 to rank in the top 3.
Disclaimer: This is just a guestimation. It's our best guess based on the data that is available and on our experience of getting sites into the top 3 consistently.
Even if you don't make it to the top 3, the links built will boost their website's overall authority and the page itself is very likely to rank much higher than before.
Also, we don't just build 55 backlinks out and then wait for the results. We start building out the links and see how the rankings will react to the links. If the impact is positive, we continue. If not, we do not.
So all in all, in this example, the potential ROI for building backlinks to the kettlebell page is $64,000/$17,500 = +365% or 3.65 to 1.
PS! We usually like to start from pages where the potential return on investment (ROI) is at least a 10:1.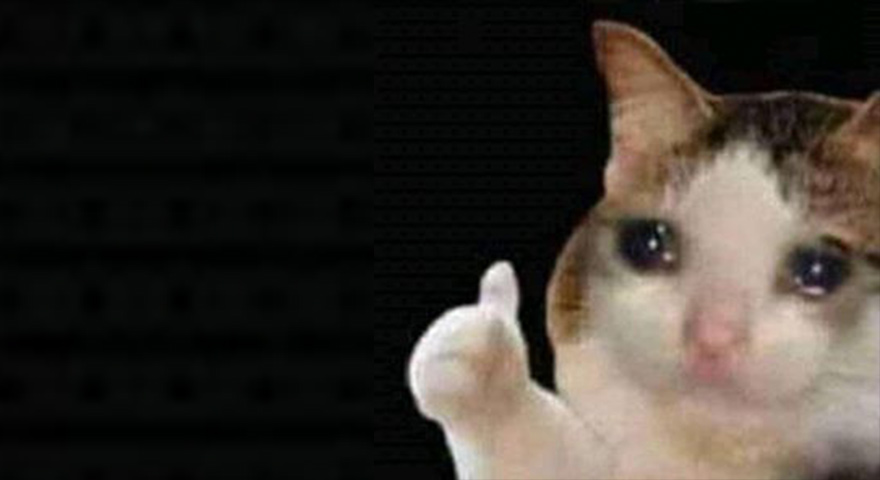 This metric is usually used to compare different pages to one another. The kettlebells page has an ROI of 365%, but the other pages shown above might have even higher ROI, meaning that we should perhaps start from there instead.
How to choose the most optimal anchor text?
I – What is anchor text?
Anchor text is the part of text that is used to link out from one page to another. If you look at the previous sentence, the words "anchor text" are used as anchor text :).
Anchor text is important because it gives context to Google about what the page that is linked out to is about.
So in the above example, if we want to rank for the keyword "kettlebell", if Bowflex would get a backlink from an article that has the word "kettlebell" used as anchor text, that would be called an exact match anchor. This means that the anchor text is exactly what the main target keyword is.
An exact match anchor is the strongest possible anchor text you can have that will have the biggest impact in your rankings.
II – Types of anchor text
#1 Exact match anchor text
As said above, exact match anchor text is when you use your main target keyword as anchor text.
E.g. "kettlebell". <- (you're welcome, Bowflex :).
#2 Partial match anchor text
If your main target keyword consists of two words like "adjustable dumbbells", then having one of those keywords in the anchor text is called a partial anchor text.
E.g. "look at these dumbbells".
#3 Topical anchor text
When you're linking out from a word or a phrase that is topically relevant but doesn't include the main target keywords.
E.g. "fitness equipment"
#4 Random anchor text
Just as the title says, when you're linking out from random words that match none of the above descriptions:
E.g. "see here", "click here", "this site", "more information", "author".
#5 URL anchors
When linking out to an URL.
E.g. https://redbat.agency/link-building-for-e-commerce/, redbat.agency
#6 Branded anchor text
When using the brand name of the link target.
E.g. Wikipedia, Google, Redbat SEO Agency.
III – How to choose anchor text?
There are two main strategies here. The basic method and the specific method. Both work, the specific method works better and is more effective, but it requires you to have access to ahrefs or a similar tool.
#1 The Basic Method
The basic method works well in most cases.
Exact match anchors: 1-2 times max or up to 10%
Partial match anchors: 2-3 times max or up to 20%
Topical anchors: up to 30%
The rest have to be random, branded or URL anchors.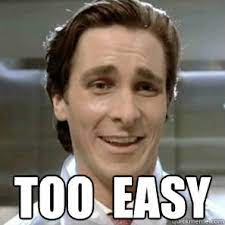 ..Yes, I know, but it works..
#2 The Specific Method
We use this method where there is a lot of competition. For this to work, you need to have access to a backlink research tool, and this will enable us to build fewer links with more impact.
Here we simply look at the top rankers again and analyze their anchor text ratios and take the averages of the top 5.
This will give us a good guideline of what is working for that particular keyword.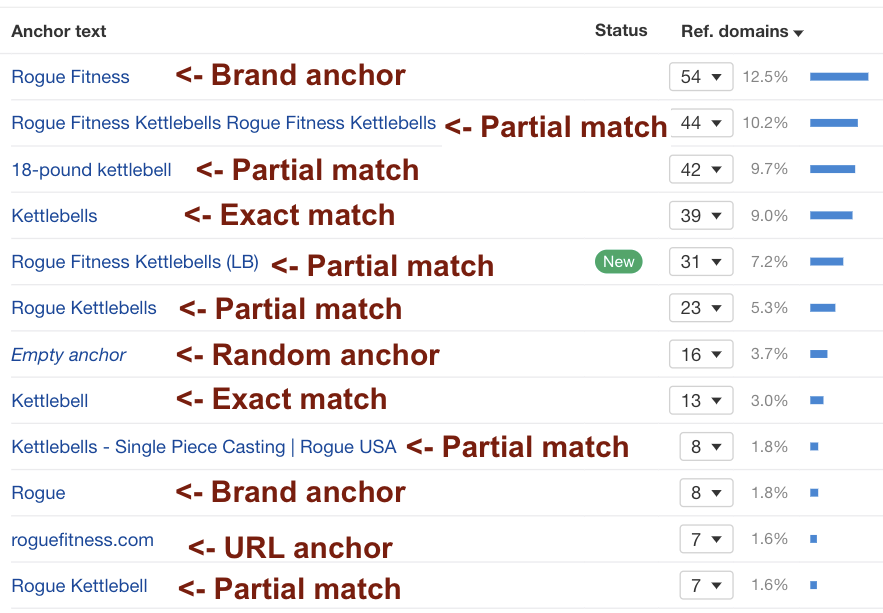 Again, this is a tedious and time-consuming process and I would only suggest you do it if you're up against high levels of competition.
The reason is that if your competitors are getting by with 40-50% partial + exact match anchor text (which is considered very risky), you could do the same. If you stick to the more conservative general guidelines given above, you'll have a harder time ranking, meaning that you need to build more links.
But on the other hand, if you go straight to being very aggressive with partial and exact match anchors, you run the risk of receiving a manual or an algorithmic penalty and lose all your rankings entirely.
This has happened to me once to one of my own websites, and I wouldn't strongly advise you not to risk it.
How and where to get backlinks from?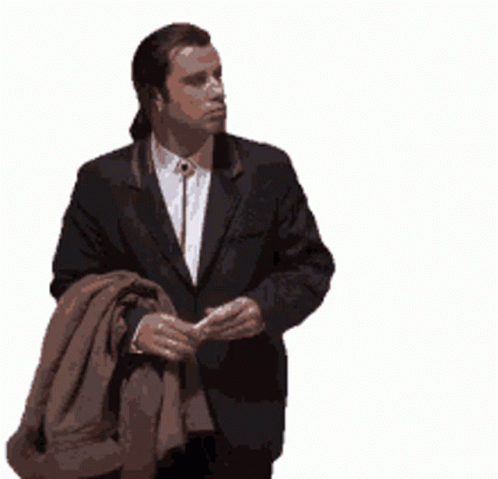 There are tens of different strategies to use to build backlinks, but the most effective strategies are the following:
I Building links through guest posts – the full strategy is explained here.
II Building links through link insertions – the full strategic is explained here.
Both of the above strategies allow you to build links to your most important and profitable pages, which are your category and product pages.
Most other strategies earn links to your home page or other specific pages that are tailored for link-building purposes mainly. Those are also nice to have and will boost your entire website's rankings, but if you want the most bang for your buck – go with the guest posts and link insertions.
If you're interested, you can read about some additional link building strategies below:
How to ensure that the backlinks will actually boost your rankings?
I have written a 5,000-word article on how to check website quality for link building, which you can find from here.
But I'll summarize the key points for you, in case you don't have the time to read the entire article:
1. Site quality is super important; otherwise, you will end up doing more harm than good.
2. If you don't know what you're doing, leave link-building to the people that know what they're doing – seriously.
3. The best indication of site quality is if the site is actually getting organic traffic from Google within the same niche that you want to rank in. You will need a tool like ahrefs to check this.
What to do next..
Now go out there and implement.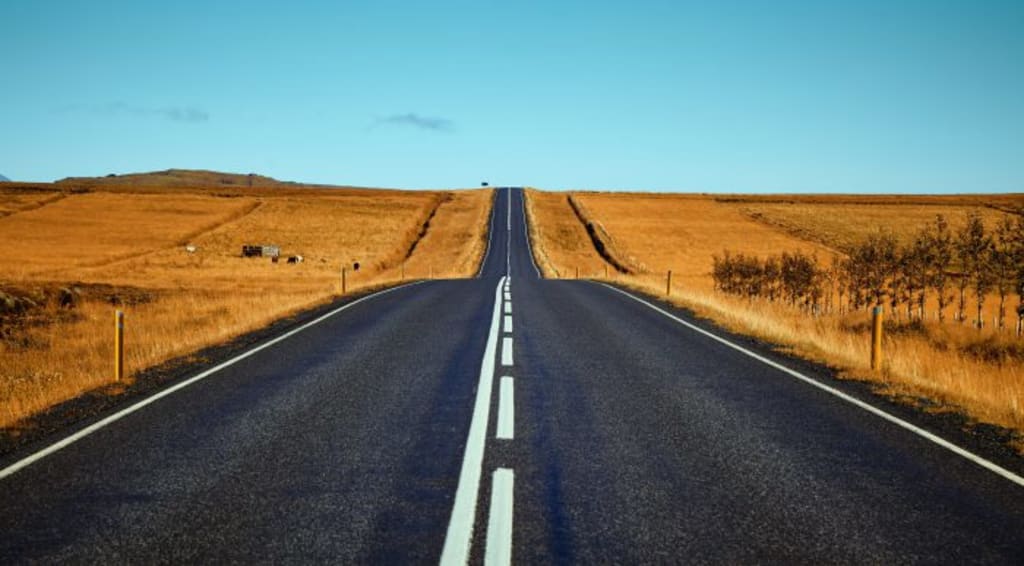 Start from determining the most important pages that you want to rank higher with and then start building links to those.
I also recommend that you track your rankings before starting to build links to see if the links are having an effect or not. Ranking data will tell you if you're on the right path or if you should adjust anything.
If you'd like us to handle of the above for you, I'd recommend you take me up on the free video audit offer that we're running at the moment.
I or someone from my team will analyze your site and tell you the best possible action steps to grow your organic traffic significantly.
If you have any questions regarding anything that has been said in the article, feel free to get in touch with me here.
Best of luck!