In this case study, we'll show a client that we helped to go from 1,250 organic visitors to over 21,900. This was achieved in a little under a year.
Allowing them to dominate most of their keywords and gain a tonne of customers from all parts of the funnel (from top to bottom).
The impact on their business has been huge and it goes without saying that they are very happy with their investment into SEO and link building.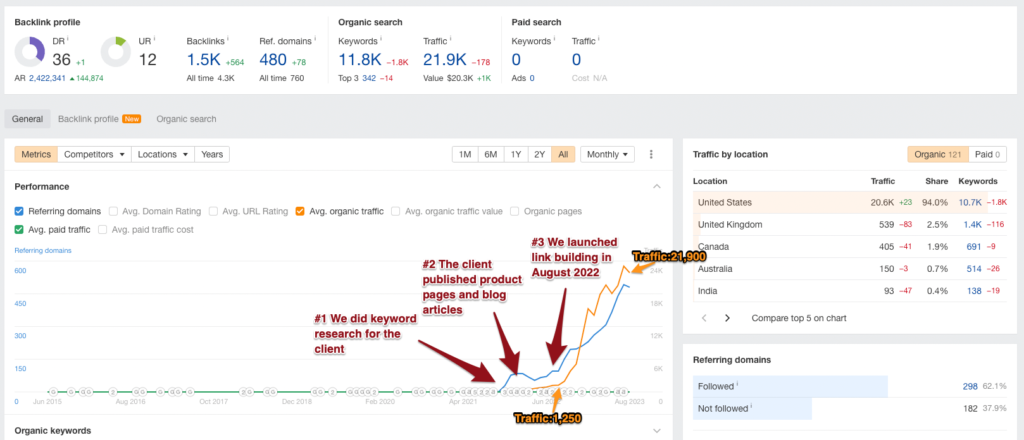 Client Background
The client operates in the E-com space, but they're a bit different than our other E-com clients. They sell a SAAS (software as a service) product to E-com store owners.
The client had started the business in 2021 and figured that SEO could be a traffic acquisition channel that could pay off hugely if they got it right. Also, paid channels were rather expensive to use and only worked for as long as you keep paying for ads.
They had some knowledge of what to do regarding SEO but didn't really know how to implement everything by themselves.
The Main Challenge
To get a new website ranking in a niche that was already dominated by players with high domain authority, lots of quality content and backlinks.
Whenever we see that someone wants to rank with a brand new website, we let them know that it's a David vs Goliath situation.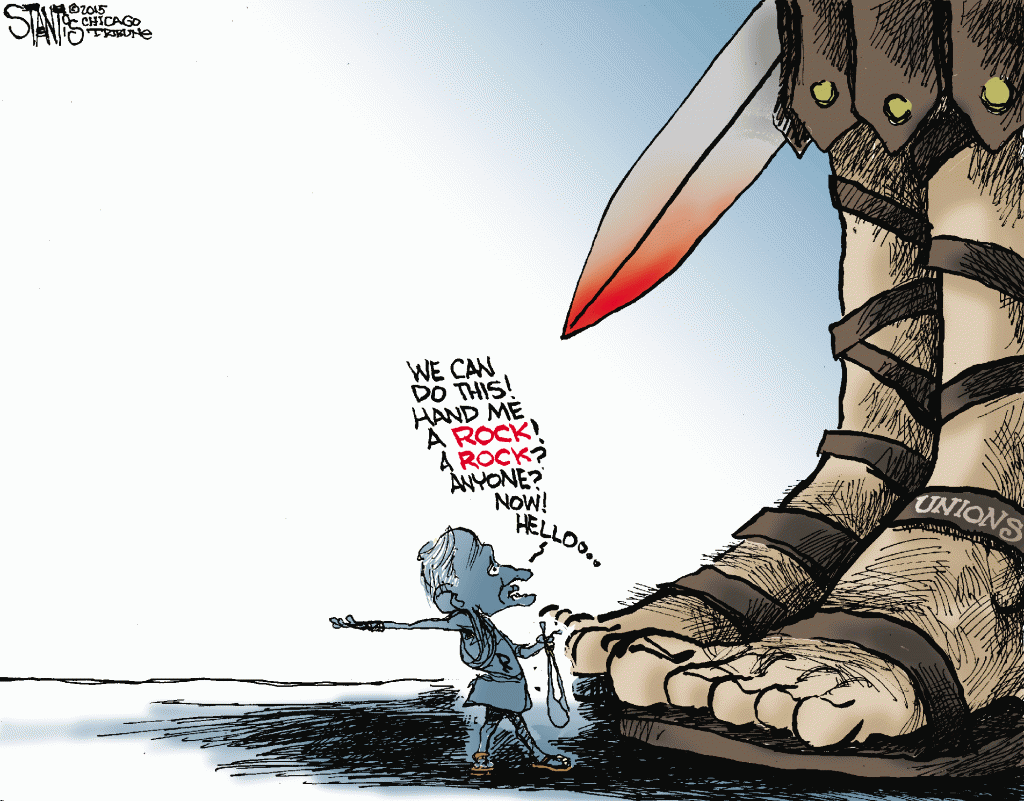 To tackle these types of situations, we have to find the competitors' weak spots and exploit them.
Also, it takes more time. But as long as the client trusts in the process and we show them the monthly progress, we have good odds of achieving success.
The Competitors' Weaknesses
After our analysis, we saw that although the competitors had authoritative and established domains, they lacked backlinks to the most important pages. They were ranking because of their domain rating alone.
EXAMPLE:
If we look at the rankings for the keyword "decaf coffee beans"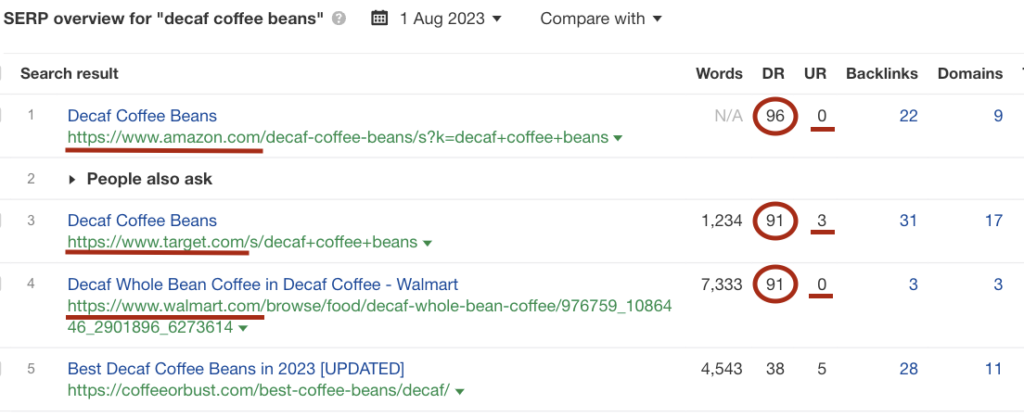 We see that currently, there are 3 "Goliaths" sitting in positions 1, 2 and 3. They are only there because of their super authoritative domains. Their DR – domain rating is 96, 91 and 91, respectively, which is really high.
Now, if you look at their UR number, which shows how strong the specific URL or page is, those numbers are really weak, at 0, 3, 0, respectively.
What this means is that they are ranking solely based on their domain power alone, and if you really want, you can outrank them with a much weaker domain, but by building links to your specific URL.
If you look at the site ranking in position #5, their domain rating (DR) is only 38, but their specific URL is stronger (5). This means that they have either more and/or stronger backlinks to that particular page.
If the site sitting in position #5 would build some more links to that page, they could beat the Goliaths and outrank them.
This is exactly what we planned to do for our client in this case study.
What We Did in Specific
With all our campaigns, we try only to do the most important things to move the needle for our clients. This is because we don't want to waste our client's money on doing months of technical optimizations that could only add 5-10% to their organic traffic.
Instead, we look at what's working in the particular industry and what are the main pillars of growth that we need to focus on.
Based on our analysis, these were the following:
#1 Keyword research
Timestamp: Keyword research started at the beginning of 2022.
We split keyword research into two categories:
1. Finding keywords that our client's customers were using to find their product.
This means that we wanted to know what are the most important keywords to optimize our clients' service pages to target.
So if we go along the same example above, this would be a keyword like:
"decaf coffee beans" -> someone typing this in is interested in buying this type of product.
2. Finding phrases that our client's customers are typing into Google to look for solutions to the problems that our client's product is solving.
This helped us generate blog topic ideas that answer their customers' questions, build trust and lead to some sales.
In addition, our client can retarget the blog readers and grow their email newsletter to convert people from reading their blog to actually buying their product.
Using coffee beans as an example again, this would be keywords like:
"How are decaf coffee beans made?"
---
Based on our keyword research, the client created over 30 articles and optimized their product pages to rank for the most important keywords that we found for them.
#2 Technical error analysis and fix suggestions
Timestamp: technical error analysis and fix suggestions were completed right after the keyword research was completed in the beginning of 2022.

We ran a technical analysis to see if there are any issues that are worth spending resources on to fix. After running the analysis, we did find a few issues and notified the client of them, but all in all, the site was in good technical shape.
There were no major issues holding back their rankings and the site structure was also done well. This meant that we and the client didn't have to do much here.
Note that it's important to take a look at this, but spending too much time on getting all the minute technical details in order is a waste of resources in most cases. It's the wrong side of the 80/20 principle in many cases.
#3 Link Gap Analysis
Timestamp: The client approached us again in August 2022 to start link building.
When the client had completed all their articles and optimized all their pages, they came back to us to ask us to start building links to their articles.
At this point, they were getting around 1,000 organic visitors to the site.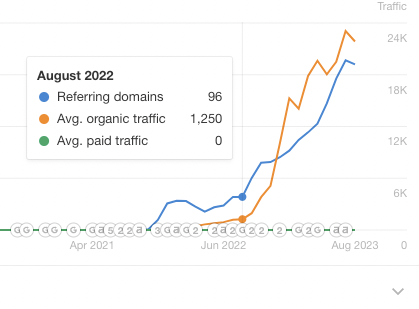 This was due to good on-page optimizations and finding keywords to target with blog articles that didn't have much ranking competition.
They knew that in order to grow and rank for the most important and profitable keywords, they needed backlinks.
Now, as we never want just to build backlinks, we proposed to do a link gap analysis.
What this means is that we ask what are the most important pages that the client wants to rank with. We then analyze how many links each of these pages need.
This process will help us build less links and only to the pages that require them. Once completed, we have a good understanding of how many links each page needs to rank in the top 3.
#4 Link Building
Timestamp: link building was launched in August 2022
Right after the link gap analysis, we launched our link-building campaigns to fill all link gaps that we found.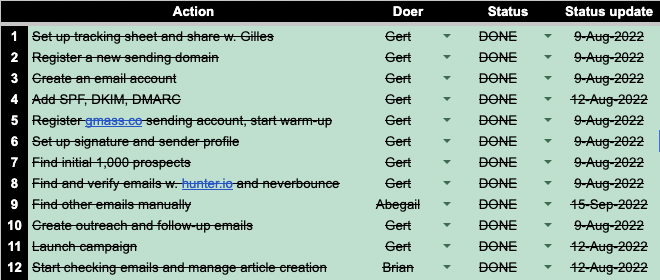 PS! If you want to know more about our full link-building process, here's an article overview of how we run link-building for e-commerce companies.
Now this was pretty much it. We didn't do anything else than just build links to the important pages and some links to the homepage.
Our client's organic traffic started to grow rather quickly, and a year and about 200 links later, this is where they are at: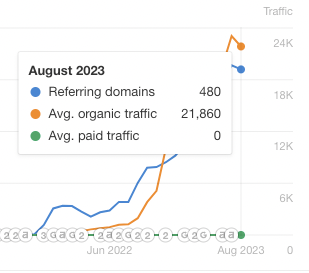 Their current organic traffic, according to Google Search Console, is 23,200.

The Return-on-Investment (ROI) Graph
In order to give some sort of an ROI calculation of the return on investment for the client, I've put together some calculations, which consist of the following figures:
Cumulative value – this is the cumulative value of the organic traffic based on the average cost per click for this niche, which is $1. So 1,000 visitors would equal $1,000 in value. If this lasts for 6 months, then it would amount to 6,000 visitors or $6,000 in cumulative value.

PS! This is a very conservative way of estimating value because if companies buy ads, they expect to make money off of those, and the cost per click doesn't equal value per click. But in order to remain conservative and for simplicity, let's use this figure.

Cumulative cost – the added-up or cumulative cost of our SEO services. In most months, the client paid us $3,500.

On the above graph, you'll see that the campaign became ROI-positive in the 4th month, which was December. This is when the value received from the additional traffic exceeded the total investment.
By the end of July, the client had invested $40,000 into our services and received over $153,000 in organic traffic value. Again, the actual value received was higher, because each visitor is worth much more than $1 to them, but the point remains the same.
Also, the real value of SEO plays out over time. If they would stop working with us, based on what we've seen on industry averages, we could make the following estimates:
3. The traffic would continue to grow for the next 6 months, but in order to remain conservative, let's calculate the traffic to remain stable for the next 6 months.
4. The traffic would start to decline by 5% per month, cumulatively, starting from the 7th month on.
If we run these numbers out until the end of the next year, we get this picture:

The total ROI is huge. Even if we stopped working with them right now, the SEO value would continue to grow.
In case you're wondering, the client is highly interested in continuing with us. I am just giving this as a hypothetical example.
PS! Not all campaigns go like this. With some clients, we've achieved even greater success, while with a few of the campaigns, we haven't been able to gain significant results, due to factors that we can't control. Based on our successes and failures, we learn and become better at assessing our ability to add value and get results. This is why we analyze each website before we agree to take on a new project. We don't want to waste your time and money.
Quick Summary
For this client, the resource allocation was the following:
80% into link building,
2% into technical fixes
18% into content production and optimization.
These are just rough calculations, but they give you a good overview.
Each campaign is a bit different. We analyze each project before we start working on it to know two main things:
Do we actually know how to help the client get much more traffic?
How do we achieve at least a 5-1, if not a 10-1 return for the client on what they invest into our services?
If we know the answers to these questions, we'll know if we want to take on the potential client and what we need to do in order to achieve results.
If you have any questions regarding this campaign, please get in touch with me through this page or via emailing gert@redbat.agency.
Thank you for reading and have an amazing day!
-Gert
PS! If you'd like us to do something similar for your business, I recommend taking us up on our free video audit offer we're currently running. Go to this link to request it and we'll shoot a 10-minute SEO easy wins video overview of your e-commerce business.